---
This simple high volume low speed fan design, ideal for industrial settings, provides necessary air movement up to 177,000 CFM. Operating on a 0.75 kW (1 Hp) gear motor, minimal power consumption is combined with impressive air volumes to create the highly efficient Alite 3.
High Volume
Low Speed

Fans

Alite 3 Fans are a green power breakthrough which allows our High Volume Low Speed (HVLS) fans to deliver previously impossible levels of performance.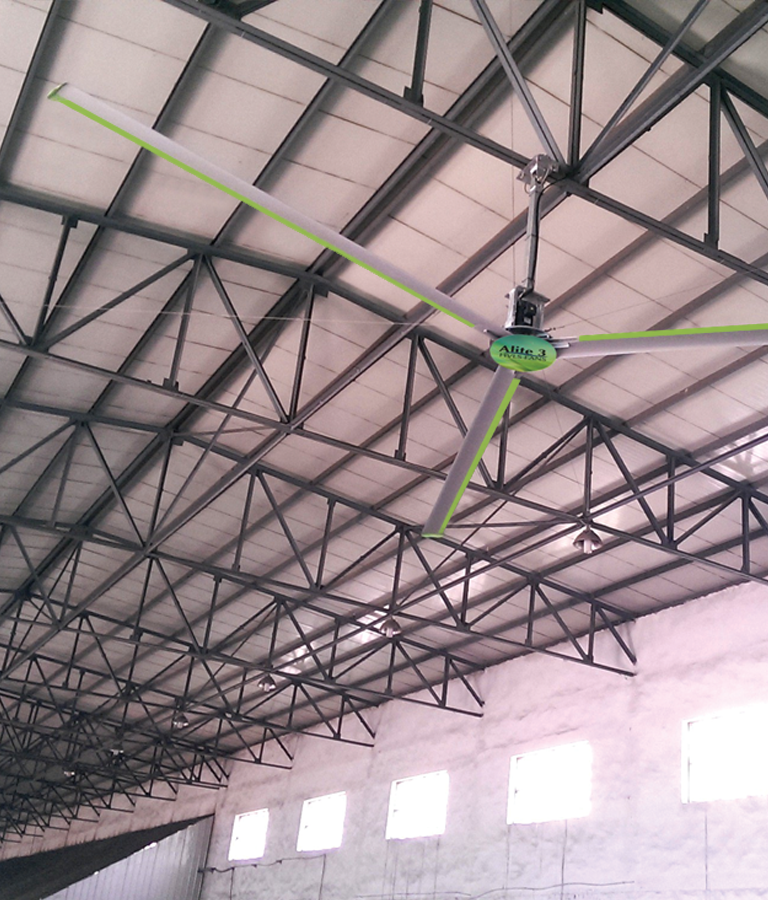 Benefits of Alite 3 HVLS Fans
This cost-effective alternative to traditional high volume low speed fans provides:
288 CFM/Watt per 7.1 m (23') fan 
148 CFM/Watt per 4.7 m (15') fan
Impressive efficiency is possible by this 3-bladed design that minimizes weight while providing continuous air movement throughout the area of influence.
Cost Effective Alternative
Nominal Power Consumption
Inexpensive Operation
Quiet Performance
Minimal Maintenance
Less Weight
Alite 3 Stats
---
177,000
CFM (Air Movement)
$0.04/hr
Approx. Operating Cost
Technical Specifications
Fans available in 15' and 23' diameters (4.7 m and 7.1 m).
Capable of moving nearly 177,184 CFM (83,621 l/s).
Operates on 1 Hp (0.75 kW).
Variable frequency drive provides soft start and full variable speed operation.
Creates a non-disruptive airflow.
Alite 3 Advantage
Our unique blade design outperform all conventional airfoils. They accomplish this by:
Offering stall angles as high as 22°. 
Always stalling gradually.
Minimizing span-wise pumping.
Eliminating tip stalling and lowering noise.
Safety
Envira-North's safety clips prevent the hub and blade assembly from separating or coming off even in the unlikely event of a catastrophic failure of the hub or drive system. 
---