Altra-Air Sailfin HVLS Fans
---
Altra-Air Sailfin HVLS fans blanket a very large area with constantly moving air to create an expansive comfort zone. As a result, this large ceiling fan can create an evaporative cooling effect of 3 to 4 degrees Celsius throughout the facility.
High Volume
Low Speed

Fans

The Sailfin Blade Design is a massive evolutionary step towards our most advanced airfoil yet capable of producing a 6mph breeze.
The Sailfin Advantage
Airfoils don't change....That is unless you work with Envira-North Systems. Since 2003, we've continually searched, tested and modified airfoils to maximize their efficiency – solely for the purpose of moving large volumes of air a low speeds. Here's what we've done:
Increased air speeds.
Reduced operating costs.
Decreased noise.
Streamlined appearance.


Sailfin represents everything users want in an HVLS Fan, it looks nice, moves a ton of air and consumes very little energy!
---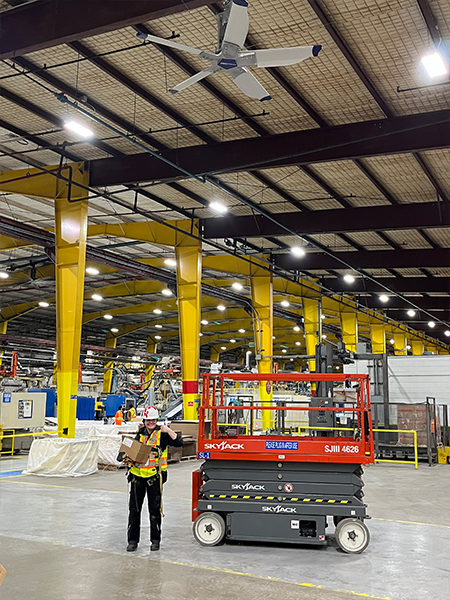 Altra-Air SAILFIN FAN CUSTOMER TESTIMONIAL
"The fans are working great! I have had no complaints since installation. You and your install team were very professional throughout the entire process, and we had no issues with the installation crews that were on site. My overall experience with you guys was great, and I would recommend Envira-North going forward."

- Don, Facility Lead Hand at Ipex Inc.
Sailfin Stats
---
16°-23°
Varying Degree Angle
of Attack
Lifetime
Warranty (Blades & Hub)

Technical Specifications
Fans range from 3.7 to 7.3 m (12 ft to 24 ft) in diameter.
6MPH breeze.
Maximum 5.7A draw.
264 CFM/Watt
Variable speed operation.
Minimal 2.5" blade flex.
Up to 23° angle of attack.
Less torque.
Warranty
Altra-Air fans come with a lifetime warranty on the blades and hub. The motor, gear reducer and VFD control panel come with a three year limited warranty.
Safety
Envira-North's blade toppers prevent a rotor from failing in the unlikely event of a catastrophic failure of the hub or drive system. The collet-type friction drive bushing connecting the hub to the reducer shaft allows controlled slippage in the event of a seizure of the reducer mechanism, or a failure of the soft start feature in the control panel.
---
Frequently Asked Questions
| | | |
| --- | --- | --- |
| What kind of maintenance do the Altra-Air Sailfin fans require? | Does the fan create negative or positive pressure in a structure? | Who will install Envira-North Systems Ltd. Altra-Air Sailfin Fans? |
| The blades should be cleaned once or twice a year. Once a year, mechanical connections be checked for proper tension. This also includes electrical connections in the fan controller and motor. The oil level in the gear reducer should be checked once a year. | The fan does not create negative or positive pressure as it only moves air. | In most cases the customer prefers to install their own fan; however Envira-North Systems Ltd. can provide installation or recommend an installer. |
| | | |
| --- | --- | --- |
| What is the warranty of the Altra-Air Sailfin fan? | What is the cost to operate an Altra-Air Sailfin Fan? | Do you have any testimonials of customers who have purchased your products in the past? |
| Lifetime warranty on the blades and hub, limited 3 year warranty on the gear reducer, motor and fan controller. | Pennies per hour. | Included in our promotional material is a list of references and testimonial letters from some of our customers. |
---