---
The Hurricane™ Turbine is a wind driven roof exhaust fan. This natural turbine ventilator is an alternative to traditional industrial ventilators that perform poorly and consume energy.
Natural

Ventilation Systems

Natural ventilation is proven to be effective and keep costs down. We offer innovative & energy efficient SMART ventilation systems!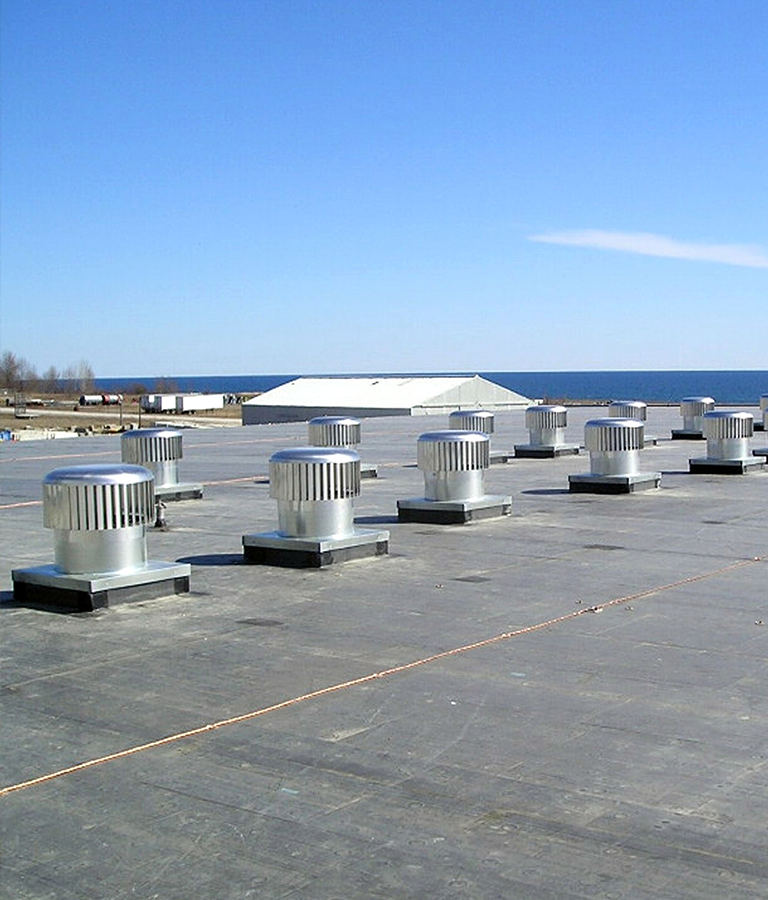 Hurricane™ Turbine
'Natural Powered Exhaust Units'
Envira-North Systems is proud to be a distributor for the high quality wind driven gravity vent turbine products produced by Edmonds Pty. of Australia. Edmonds, in keeping with Envira-North's policies, is a green leader in natural ventilation products.
Several different products are available, but the wind driven gravity turbine vent is the most impressive. Distinguishing itself by being the largest and most efficient wind driven gravity vent in the world, the Hurricane™ ventilator will provide years of quiet, cost effective service. The Hurricane™ turbine is fire rated and also carries an astounding 15 year warranty!
Hurricane™ Turbine Stats
---
12" to 36"
Diameter Units Avail.
>7,331
CFM (Air Movement)
$0
Electrical Operating Cost
Hurricane™ Technical Specs
No Electrical Operating Costs.
No Wiring Costs.
Designed to Withstand Adverse Weather.
Low Maintenance.
Low Impact on the Building Structure.
Quiet Operation.
15 Year Warranty.
Worried There Isn't Enough Wind?
By natural convection, the hot air from inside the building will rise and go through the turbine creating a stack effect thus exhausting the hot air, making the turbine turn without any external wind.
Meets the Highest of Standards
Manufactured from 5005 grade aluminum, the Hurricane™ has been tested by Construction Research Laboratories Inc, Miami, Florida and withstood a continuous gusting wind of 240 km/h without damage. It has also passed the requirements of the Low Speed Dynamic Rain Penetration Test (3 l /m at 57.4 km/h).
---
Frequently Asked Questions
| | | |
| --- | --- | --- |
| How much does one 36" Hurricane™ Turbine weigh? | What kind of maintenance is required? | How many cubic feet of air per minute can each Hurricane™ exhaust? |
| It only weighs 18.1 kg or 39.9 lbs. | Almost none! Depending on your environment, an inspection once a year should be enough to verify that everything is tight. | On a calm day with an outside wind of 6 km/hr a H900 (36") Hurricane will exhaust about 3305 CFM. A wind speed of 16km/hr or higher the H900 will exhaust 7331 CFM. Typical wind speeds range between these two points. Consult your local historical weather data for more details. |
| | | |
| --- | --- | --- |
| What is the warranty included with the purchase of each Hurricane™ turbine? | Is a fresh air intake required with the installation of the Hurricane™? | Will Envira-North Systems Ltd install the Hurricane™ turbines in my facility? |
| It comes with a 15 year limited warranty. | Depending on your building, there may be enough existing air intake to provide fresh air. If additional fresh air is required, the most economical way to achieve this is by installing louvers. | No, your roofing company is better equipped to deal with your roof. We can provide detailed instructions and guidance to contractors or recommend someone in your area who has previous experience with the applications. |