Jazz Fans - Completely Customizable
---
Jazz Fans stress the strength of feeling comfort. An attractive fan, completely customizable in appearance that makes the desired - achievable. A fan, designed specifically to move air with a non-disruptive, yet continually powerful flow.
A Fan, Like No Other.
From showrooms to restaurants & atriums to office spaces, the Jazz Fan's creative touch of ambiance enhances the comforts & aesthetics of each space.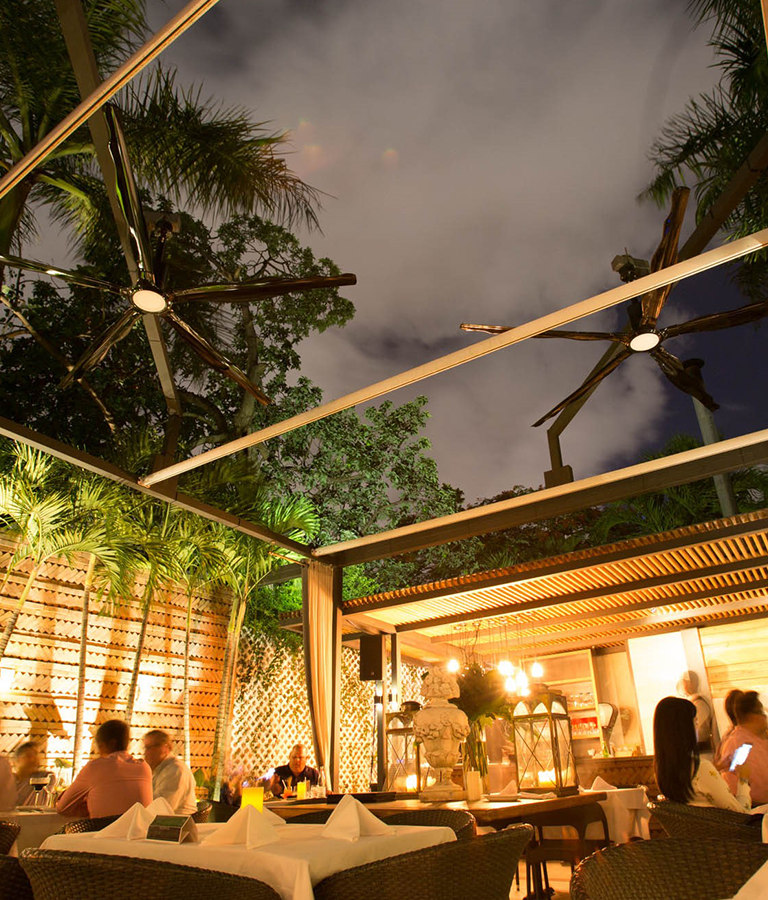 Jazz Fan's Unique Blade Design
Traditional airfoils (or blades) are linear in design and produce greater noise at a particular frequency. Using varying points on the leading edge of the blade spreads the noise or acoustic signature over a greater range of frequencies, virtually eliminating any noise.
As a fan rotates, the tip of a blade spins faster than the fixed point or 'centre' creating pockets of minimal air movement directly underneath the fan. The Jazz Fan blade design tackles this challenge with a varying degree angle of attack, never before seen in our industry. Ranging from 6° (tip) to 14° at its greatest point, the Jazz Fan diminishes the resistance against each blade maximizing air movement and minimizing power consumption.

---
Jazz Fan Stats
---
45,000
CFM (Air Movement)
UL, CSA, CE
Certification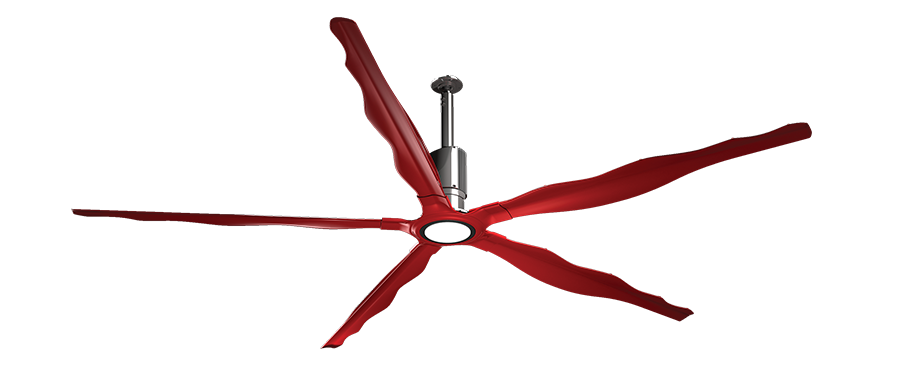 Technical Specifications
Maximum 10' diameter.
Gearless Smart Voltage Motor.
Variable Speed 0-120 RPM.
45,000 CFM of Air Movement
Upwards of 5 MPH Breeze
Crazy Efficient - Max 264 W Used
Integrated Dimmable LED Light - 1980 Lumens
On-Board Controls
85 lbs Assembled Weight
UL, CSA & CE Certified
Compact Single Box Packaging
Quieter Than Ambient Noise
Ordering Made Simple
Jazz Fans come as a complete package that includes; the Jazz Fan, Universal Mounting System, Wiring Kit, and Control Panel. Having everything included in this complete package streamlines ordering, shipping and installation. From start to finish, Envira-North Systems provides everything you need – in one simple package.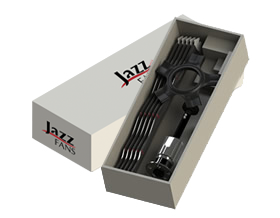 ---
Standard Color Selection & Unique Textured Finishes
The sleek, ultra-modern design allows for a magnitude of customizable finishes from vibrant red to brilliant chrome & every imaginable color in between.

A textured finish is a distinctive way to customize your Jazz Ceiling Fan; the combined ability to blend, yet enhance its surroundings is what makes these finishes special.

---