---
Industrial Curtains & Partitions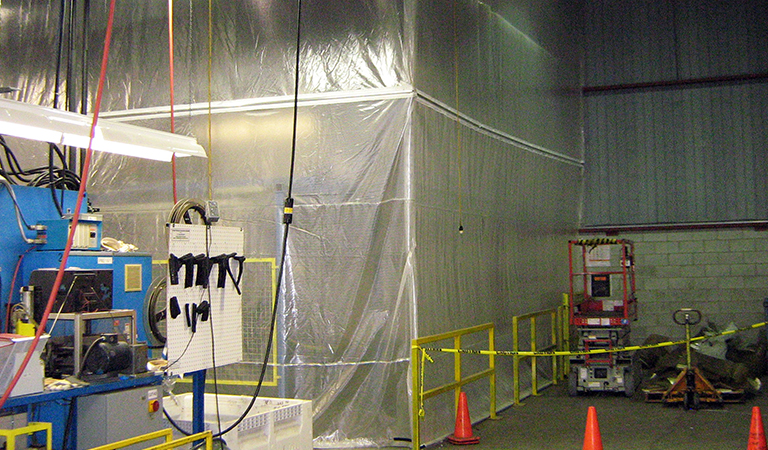 To encompass a total environmental system, Envira-North manufactures and distributes industrial curtains, fabric curtains, curtain partitions, enclosures, roll up doors and PVC strip doors. These products help maximize your space by managing fumes, drafts, odors and climate while improving energy efficiency and productivity.
Envira-North Industrial Curtain Systems creates a retractable barrier that can be drawn into use in seconds. The curtain assembly uses a simple to install track and roller system giving you a lifetime of trouble free use.
Envira-North manufactures a greater quality and quantity of options when it comes to industrial curtain designs for your industrial and commercial facilities. Curtain designs are available complete with materials and hardware custom manufactured to your specific needs. Whether you require heavy duty, fire rated or standard curtain material, we have the right curtain to suit your needs.
Benefits of the Industrial Curtain Design
Stops the migration of heat/cold.
Environment containment.
Economical and affordable.
Low maintenance.
Simple operation.
Curtain Options
Automated or manual devices available for operating.
All our curtains are custom made to your specifications.
Stainless steel cable is used for all main pull lines and curtain drop lines.
A heavy grade galvanized top and bottom curtain rod.
Multiple operating curtains with a central mounted tubular actuator for compact roll-up storage.
Available in a large selection of materials such as heavy duty, fire rated, breathable, shade cloth or insect screen to name a few.
Contact us today to find out how curtain partitions can help your building.